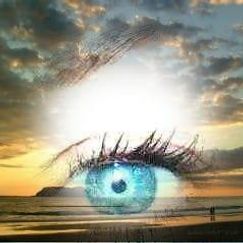 IT'S BEEN A LONG JOURNEY
AND THERE IS STILL SO MUCH TO BE SEEN
Born in Munich, grown up in Australia, I have traveled half the World, before I even entered school.
When I was about 5 years old, I discovered the tape recorder of my parents. It was one of those antique monsters with gigantic tape reels. I started to capture my wee melodies, that crossed my mind on it. I still remember holding that microphone, singing with all my might, while watching the Pacific across the street and dreaming of an oceanwide audience. ;-)
Back in Germany, I went a step further and joined my first Band near Munich. I was about 16. The other Bandmembers were so much older - between 28 and 38. It scared the hell out of me to stand infront of them. So I hardly dared to open my mouth. Will never forget that. But I got over it ;-)
Later on, other Bands followed and I was simply happy, as long as I could sing.
I extended my sphere of acitivity and started to:
- sing and speak commercials
- write Lyrics for a couple of Rockbands
- sing in several Coverbands
- sing the Backgroundvocals Studio and/or live for quiet a few Bands and Artists. The most enjoyable time was with HELTER SKELTER, a Munichbased Glamband of the late 80's. Hell of a time!
- And finaly I learned, what it means to be on Tour, by joining the Crew of MÜNCHENER FREIHEIT for 2 extended Tours in a row in the early 90's.
In the recent past, I was happy enough, to do some Backingvocals for and with ANDY SUSEMIHL, whose outstanding Guitar-Skills will also be heard on a couple of my Songs.
That's all Folks. No big name-dropping. Only a few honorable mentions.
Stay tuned, stay calm and always have a sweet wee Melody on your Lips.
Yours
Karin - Simply Saxx